Před malou chvílí byl Groundspeakem vypuštěn oběžník o ČAGeo's Flying Circusu a jeho přeměně na GPS Maze Europe:-)
Zde je "naše" pasáž oběžníku:
---
GPS Maze Europe: A Reinvention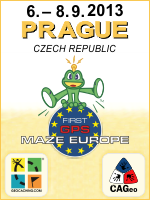 Many in Europe have heard of the GPS Adventures Maze Exhibit. Some geocachers have even attended the museum-quality exhibit in the U.S. or Canada. Now, geocachers throughout Europe will have the opportunity to visit a new GPS Maze on their home soil. The effort to bring the concept to Europe has been underway for more than a year—and not only for the special icon. The GPS Maze promotes geocaching that helps geocachers discover new places, while simultaneously preserving the natural environment.
Join more than a thousand of your fellow geocachers during the GPS Maze Europe exhibition in Prague on September 6–8. It brings together the best from the traditional GPS Adventure Maze and the smaller, mobile Flying Circus. You'll be able to test your geocaching knowledge and sense of adventure inside the life-size maze. Plus, while you're making your way through the family-friendly exhibit, you'll learn the inside story of GPS technology, unlock navigational history and discover geocaching fun facts. Those who log a Found It will earn the unique GPS Adventures Maze Exhibit geocache type icon.